7.4.2
Clarive 7.4.2 Release Notes¶
Release date: 26 April 2019
We're pleased to present our new release Clarive 7.4.2 with some features and some fixes to the previous version:
Trap errors badge in rule designer¶
Identifying operations in rules with "Trap Errors" configured was tough so we've added a new badge to the operations to easily identify those operations without the need of opening their configuration panel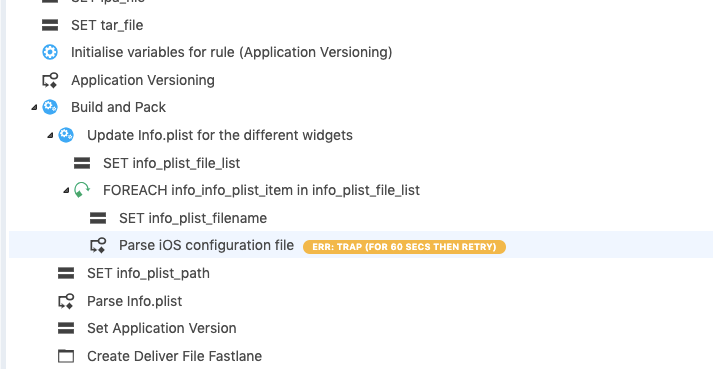 Additional Issues and Enhancements implemented¶
[ENH]#545 Improve branch name generator
[FIX]#508 Username can be modified from admin users
[FIX]#513 Make phrase gender neutral
[FIX]#514 Warn when deleting projects if there are related topics
[FIX]#515 Root cannot edit project member permissions
[FIX]#516 Search on enter in repository explorer
[FIX]#520 Job logs with duplicate streams
[FIX]#521 Add variables to IncomingWebhook box in Slack operation
[FIX]#522 Error: Cannot return null for non-nullable field Topic.modifiedBy or Cannot return null for non-nullable field Topic.createdBy
[FIX]#524 Show topic tag on reports
[FIX]#526 Migrated calendars SCOPE is related to non-existant cis
[FIX]#527 Not all statuses are available for filtering at topics list view
[FIX]#528 Fix temporary kanban board missing statuses
[FIX]#541 Malformed encoding text in git browser
Ready to upgrade?¶
Just follow the standard procedure for installing the new version. Click here to get it from our Install page.
Acknowledgements¶
Join us in our Community to make suggestions and report bugs.
Thanks to everyone who participated there.